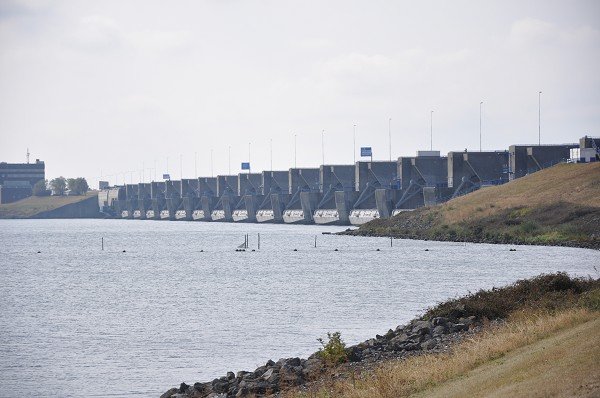 Netherlands : Gateway to the Rhine open for salmon
Photo Guy Warzée
November the 15 the Netherlands were celebrating the opening of the storm surge barrier on the Haringvliet, exactly 47 years after the Haringvliet sluices were rendered operative. That is where one of the three branches of the Rhine flows out into the North Sea. Until now, the storm surge barrier was a major obstacle to the passage of salmon and sea trout into the Rhine delta. Its partial opening greatly increases the chance that salmon and other "long distance migratory fish" will gain access to the Rhine catchment area. In addition, letting in saline water will improve the biodiversity of Haringvliet water.
Because of the drought that has affected the Netherlands over the past few months and the low river discharge, the sluices still remain closed on 15 November, only the decree has been officially adopted. They will from now operate in a fish friendly way in a "learning by doing" approach. As soon as sufficient fresh river water is entering into the Haringvliet Lake they partially open the sluices (maybe this week). If too much saline water is entering, the sluices will be closed. 
The partial opening of the Haringvliet barriers has figured on the long list of measures advocated by environmental associations and the International Commission for the Protection of the Rhine (ICPR) for decades. Tenacity and commitment to conservation of nature and the environment has been effective.
Now the Rhine goes open until France and Rhinau hydropower plant. But France and EDF are still making no real progress with the construction of fish ladders at their 3 hydropower plants to enabling migratory fish to make their way up the Upper Rhine at long last. More than ever, effort has to be continued and it is up to France to respond to the great challenges on the Upper Rhine.   
The lack of action on the part of EDF might lead to a situation in which the statutory requirements of the EU Water Framework Directive (WFD) are missed by a wide margin.  
The environmental associations in the Rhine catchment area have therefore registered an appeal seeking to oblige the EU Commission to open proceedings against the French Republic for breach of treaty obligations because of failure to comply with the WFD. We hope that France will at last put this topic on the top of his priority list !! 
 More info :
Read more : www.salmoncomeback.org and last press release from salmon comeback 
https://www.ern.org/wp-content/uploads/sites/52/2018/11/065_haringsvliet.jpg
398
600
Roberto Epple
https://www.ern.org/wp-content/uploads/sites/52/2017/03/ERN_logo.png
Roberto Epple
2018-11-15 00:45:14
2020-06-23 15:32:39
Netherlands : Gateway to the Rhine open for salmon