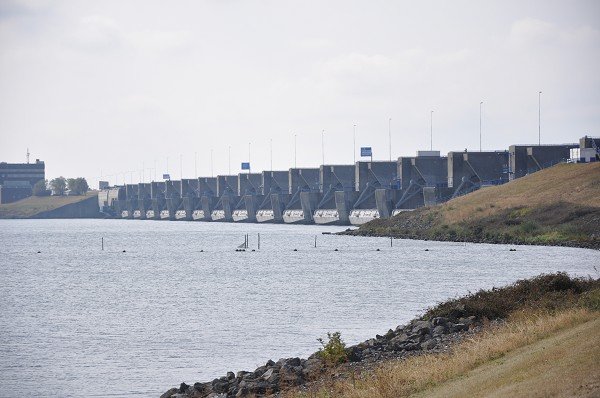 German Fisheries Federation and 23 other German, French and Swiss organisations are calling for a reconsideration of net fishing before the Rhine estuary
On 19.11.2019, a delegation from the German Fisheries  – The Deutscher Angelfischerverband e.V,  submitted a petition to the Dutch Parliament in The Hague.
The petition calls for a rethink of commercial net fishing at the Haringvliet dam at the mouth of the Rhine. After their confluence, the Rhine, the Meuse and the Merwede de Nieuwe reach the North Sea via the Haringvliet. The Haringvliet Dam is the largest tidal barrier in Europe. The Haringvliet locks have been open in places since autumn 2018, improving the continuity of migratory fish.
With the opening of the Haringvliet part of a common master plan of the countries bordering the Rhine was carried out, so that the fish can migrate freely. In this context, however, it was certainly not anticipated that they would migrate directly into the nets or cages in front of the estuary.
Millions of euros have already been invested to restore ecological continuity across the Rhine. In Germany, France and Switzerland, there are many programmes for the reintroduction of migratory fish into the Rhine, such as salmon and sea trout.
In addition, passing through the estuary; fish need to get used to the transition from fresh water to salt water. A sensitive process that takes some time, because the body of the fish has to change to do so. Thus, net fishing at this hotspot hinders the protection of fish and thus the success of reintroduction projects.
Germany's petition received a wide response from the press in Holland. For example, Dutch public television MPO1 reported extensively on the petition in the Evening News (NOS-Journal). The Dutch Parliament will consider the petition and next steps in Harlingvliet in the Fisheries Commission on 5 December 2019.
https://www.ern.org/wp-content/uploads/sites/52/2018/11/065_haringsvliet.jpg
398
600
Corinne Ronot
https://www.ern.org/wp-content/uploads/sites/52/2017/03/ERN_logo.png
Corinne Ronot
2019-11-20 13:56:07
2020-01-16 13:14:24
German Fisheries Federation and 23 other German, French and Swiss organisations are calling for a reconsideration of net fishing before the Rhine estuary